Press
August 21, 2019.   Release of the third installment of the International Award-Winning Series, Fate & Freedom.  Knight discusses her work on WTKR Coast Live, Norfolk Va.

https://localtvwtkr.wordpress.com/2019/08/19/untold-stories-from-the-first-africans-in-english-america-on-coast-live/
400th Commemoration in Hampton, Virginia – Old Point Comfort
Author K I Knight attended the 400th Commemoration first and foremost as a descendant.  She was among hundreds of other descendants who attended.   For the last 13 years Knight has spent countless hours researching the 1619/20 Africans through primary sources.  "The records are out there… you just need to know where to look."  You can start with Knight's most recent work  UNVEILED – The Twenty & Odd.
The following are some of the articles written about Knight's work.
Researching 1619 in Virginia took hours, overseas travel
Published 8:00 am CDT, Saturday, August 24, 2019
MIDLAND Reporter-Telegram
HAMPTON, Va. (AP) — The most basic information — dry, demographic details — is contained in a census that was taken in 1620, and then subsequent ones in 1624 and '25.
Kathryn Knight's search began with a genealogy project on her husband's side of the family. To her surprise, she was able to trace him all the way back to a woman named Margaret Cornish who lived in Virginia in the early- and mid-17th century. She used a process known as "cluster genealogy," in which broadens the scope of the research.
In cluster genealogy, the researcher starts with the specific subject of the search — but also looks for details regarding friends, neighbors and colleagues. If the primary information trail goes cold, important related details often can be found in the tangential stories.
What began as a family project grew into something much larger. Knight authored "Unveiled: The Twenty & Odd — Documenting the First Africans in England's America, 1619-1625 and Beyond." She also published the three-volume "Fate & Freedom" series and is now working on a reference book that is a 1,000-page research guide for the three books.
She estimates that she has spent 20,000 hours researching the first Africans' arrival in 1619.
But then she admits it's actually much more than that.
"Twenty-thousand hours is when I stopped counting," she said. "It's really like an addiction for me."
Amid all of those hours and hours of research, sometimes the answer comes in an instant.
https://www.mrt.com/news/article/Researching-1619-in-Virginia-took-hours-overseas-14373110.php
Hampton forum on first Africans to English North America explores arrival, genealogy
Staff writer | Daily Press
May 29, 2019 | 11:00 AM | Hampton
When it comes to discussing the first documented Africans brought to the Virginia colonies and how they got here, there is a lengthy paper trail.
"They were Angolans. The Angolans were so successful," she said. "It's important to understand the complexity and understand the historical significance and how it (has) played a role in antebellum slavery."
The second half will review the genealogy of the first "20 and Odd" Africans and what happened to them, using research presented by Kathryn Knight, an author who writes under the pen name K.I. Knight.
Knight, who hails from Florida, spent more than a decade examining the history, tracing the Africans' abduction from the Kingdom of Ndongo — present day Angola — their arrival, and survival through 1667. Her research explores how some descendants became free persons and landowners — all while Virginia was actively involved in slavery.
"I will be revealing names along with some family lineage," Knight said via email. "The shroud will be removed and the truth about the first Africans will be revealed."
She agreed with Murphy that much of the history cannot be found "in one central location. In fact, it's only found in small bits across the globe," she wrote.
The session wraps up with ways to engage the community, the legacy of the first Africans and how to teach the history and have conversations.
To read the full article… https://www.dailypress.com/news/hampton/dp-nws-hampton-genealogy-20190523-story.html
Afro American Historical and Genealogical Society awards K I Knight four (4) International Book Awards. 
In October of 2018 at their Annual conference, the Afro American Historical and Genealogical Society (AAHGS) acknowledged K I Knight's work in African American History.  The first two books in Knight's historical Fate & Freedom series, about the first Africans who arrived in the English settlement of Virginia in 1619, took home four awards and was featured in the AAHGS Quarterly Newsletter.  2019 will be a very busy year for Knight as she releases the third and last book of the Fate & Freedom Series and her nonfiction, UNVEILED, the Twenty & Odd.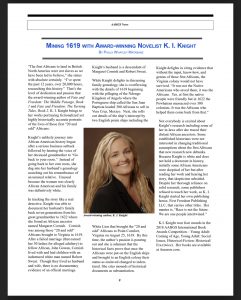 FACT BASED TALE OF FIRST AFRICANS IN VIRGINIA
Author K.I. Knight uses genealogical research to weave tale of first Africans in Virginia in her book "Fate & Freedom"
Mary Kay Grimes, #HRBooks Contributor
DAILY PRESS
In her historical fiction series "Fate & Freedom," K.I. Knight uses her background in genealogy to tell the story of two African children, who were stolen from their home and sent on a long journey that eventually ended in the newly colonized America. Although much of the story comes from the author's imagination, the two main characters and several of the supporting characters were real historical figures.
Knight spent seven years doing extensive research about the early American settlements, and specifically about the role and lives of the first Africans to live here. The character of Margaret is based on Margaret Cornish, a resident of Surry County in the 1660s, who was the first African woman to pay her own taxes and own a home.
Book one of the series, "The Middle Passage," covers the earliest years of Margaret and John, two children living in a village in Angola, Africa, who were captured by the Portuguese after their village was attacked. They were loaded onboard a slave ship bound for the Americas, and the deplorable conditions meant that many of the Africans died en route. The ship never made its destination; Margaret and John were among a small number rescued when an English privateer took the Spanish-Portuguese ship in battle in the Gulf of Mexico. The captain of the English vessel, Captain Jope, immediately felt a kinship with the two children and escorted them back to England on his ship — this time as passengers rather than cargo.
Along with the story of Margaret and John, Knight gives a great deal of historical detail regarding the political atmosphere of the time. She paints a vivid picture of the culture of 17th century England, the conflicts between Catholics and Protestants, and the driving forces behind those early American settlements.
Knight is a native Floridian, who credits her great-grandmother with inspiring her passion for history and genealogy. She maintains a blog at kinfolkdetective.com where she shares some of the research she did for the book. "The Middle Passage" is available in both print (hardcover and paperback, about $30 and $20, respectively), and e-book format (about $10) and can be purchased from retailers such as Amazon.com and Barnes & Noble. The second book in the series, "The Turning Tides," is expected to be released in 2016.
Grimes lives in Newport News and in the evenings she likes to curl up in her recliner with a good book.

Fate & Freedom Book I – The Middle Passage receives two GOLD medals. Adult Fiction – Historical, Cover Design
FAPA, Jane R. Wood, Vice President of Marketing. August 10, 2015 PRESS RELEASE

On Saturday night, August 8, the Florida Authors & Publishers Association (FAPA) gave out its prestigious annual President's Awards for the best books of 2014 and the first half of 2015 by authors and publishers in Florida and throughout the United States. The event, which took place at the Hilton Orlando/Lake Buena Vista Resort, recognized outstanding books by awarding gold and up to two silver medals in categories ranging from children's books to adult fiction, from memoirs to self-help, from business books to e-books.
"The 2015 award winners elevate publishing both regionally and nationally. The awards continue to command the attention of industry professionals and readers!" said Mark Wayne Adams, FAPA President.
The following winners were selected in the following categories by the competition's 31 judges – 27 national state librarians and four publishing professionals:
Press Release Link
ADULT FICTION: GENERAL
SILVER:Iron Butterfly, Lisa Wainland, Twin Tree Press
SILVER:Lost Twin, D. W. Harper, HayMarBooks, LLC
GOLD:The Daughter of the Sea and the Sky, David Litwack, Evolved Publishing
ADULT FICTION: GENRE
SILVER:Iron Butterfly, Lisa Wainland, Twin Tree Press
SILVER:Memory House, Bette Lee Crosby, Bent Pine Publishing
GOLD:The Farber Legacy, George Encizo, CreateSpace
GOLD:Good Sam, Dete Meserve, Melrose Hill Publishing
ADULT FICTION: ACTION/SUSPENSE
SILVER:Shark Fin Soup, Susan Klaus, Oceanview Publishing
SILVER:Murder in Nice, Susan Kiernan-Lewis, San Marco Press
GOLD:The Care Card, Darryl Bollinger, JNB Press
ADULT FICTION: HISTORICAL
SILVER:Over Here, James Hockenberry, HN Books
SILVER:Callie Kinser of Brush Creek, Ron Miller, Antebellum Press
SILVER:Not Just Another War Story, Wayne G. MacDowell, DocUmeant Publishing
GOLD:Fate & Freedom, Book 1 – The Middle Passage, K. I. Knight, First Freedom Publishing
ADULT: NON-FICTION
SILVER:Hadrian's Wall Path, Jane V. Blanchard, Jane V. Blanchard
SILVER:Oh My God, I'm Feeling Older and So Is My Mom, Scott Greenberg, Star Group Books
GOLD:Unbroken Circles for Schools, Ken Johnson, Southern Yellow Pine Publishing
FLORIDA FICTION FOR ADULTS
SILVER:The Care Card, Darryl Bollinger, JNB Press
SILVER:Mercedes Wore Black, Andrea Brunais, Southern Yellow Pine Publishing
SILVER:Mosquito County, Lucinda Waldron, Outskirts Press
GOLD:Save My Place, Olivia deBelle Byrd, Mercer University Press
FLORIDA NON-FICTION FOR ADULTS
SILVER:Shade in the Sunshine State, Liz Coursen, First Person Publications
SILVER:Right Smart to Say, Robert H. Gore, III, Middle River Press
GOLD:Images of America: Key Biscayne, James Kushlan and Kirsten Hines, Arcadia Publishing
BIOGRAPHY
GOLD :Women of Valor, Joanne D. Gilbert, Gihon River Press
AUTOBIOGRAPHY/MEMOIR
SILVER:Walking to Woot: A Photographic Narrative Discovering New Dimensions for Parent/Teen Bonding, Jackie Chase, Adventure Travel Press
SILVER:How We Said Goodnight, Rachel Silsdorf, Bardolf & Company
GOLD:Blasted By Adversity: The Making Of A Wounded Warrior, Luke Murphy with Julie Bettinger, Inkshares, Inc.
HUMOR
SILVER:Shorts for the Beach, J. M. Fisher
SILVER:Mark Taylor's Checkered Past: S.S. Guilt Trip, Angelina Assanti, City of Palms Publishing Co.
GOLD:Oh My God, I'm Feeling Older and So Is My Mom, Scott Greenberg, Star Group Books
COVER DESIGN: SMALL FORMAT
SILVER:The Big Wheel, Scott Archer Jones, Southern Yellow Pine Publishing
SILVER:The Lost Twin, D. W. Harper, HayMarBooks, LLC
GOLD:Save My Place, Olivia deBelle Byrd, Mercer University Press
COVER DESIGN: LARGE FORMAT
SILVER:Dinosaurs Living in My Hair, Jayne M Rose-Vallee, Anni Matsick, Rosevalle Creations
SILVER:Flight of the Golden Harpy, Susan Klaus, Tom Doherty Associate Book
GOLD:Fate & Freedom, Book 1 – The Middle Passage, K. I. Knight, First Freedom Publishing
FOUNDERS AWARD
Patricia Charpentier, Writing Your Life
Bradford County Telegraph
Bradford County – In researching her husband's family's roots in Bradford County and beyond, Kathryn Knight discovered a story worth telling—one that involves the first Africans to set foot in the U.S.
Knight has written a three-novel series called "Fate and Freedom" based upon her research. The first book, subtitled, "The Middle Passage," is currently available for purchase through Firstfreedompublishing.com, Amazon and Barnes and Noble. Copies may also be bought at A&G Gifts at 117 S. Thompson St. in Starke. Knight has written before on genealogy and maintains a genealogy blog, but she has never written anything approaching the scope of a novel. She is almost at a loss to explain how it happened, saying, "It just kind of flowed right out of me." "Fate and Freedom: The Middle Passage" tells the story of Margaret and John, who are taken from their home in Africa by slave traders in the 1600s and put aboard the San Juan Batista (also known as the black Mayflower), a ship that was bound for Mexico. An English privateer rescued them from that fate and took them to the shores of Virginia—long before slavery was institutionalized there. The story—set against the backdrop of the war between England and Spain and the power struggles within the Virginia Company in London and Jamestown—includes real people and real events, but Knight decided against publishing a straight-forward work of non-fiction. She wanted readers to be able to experience what Margaret and John must have been thinking. "Three times I wrote it as a non-fiction story, but I didn't like it," Knight said. "I wanted the reader to see it through the eyes of Margaret and John." Margaret and John's journey did not take them to Florida, but that's where Knight's journey began as she pieced together a story she was in no way expecting. Knight became interested in genealogy at an early age. She grew up in Winter Garden and remembered visiting family members' graves at Beulah Cemetery as a child as young as 4 with her great-grandmother. "She would tell me all the stories of everybody, of all her ancestors," Knight said. So Knight came to learn a bit about her family history, but her husband, Tom, didn't know a whole lot about his ancestors when they met. He knew about his grandfather Hollis Knight, who was the Bradford County attorney, as well as a state attorney. Tom's great-grandfather D.E. Knight, was a Florida senator in 1921. D.E. Knight's wife was the third woman to take the Florida Bar and pass. She worked as an attorney and recorded the minutes of Florida Senate meetings. The Sweat family made up the senator's wife's ancestors. Exploring that family line took Knight to Crosby Lake Cemetery. "That's where Sally Sweat is buried—the first Sweat ancestor I found in the family tree," Knight said. "We went from there." As she delved into the family history, Knight came upon a 1760 record in Georgia that included one of Nathaniel Sweat's sons. Nathaniel Sweat was white, but the son in question was black. Research also turned up an ancestor in a 1640 document among the general court records of Virginia. It was an order for a married, black woman named Margaret Cornish to be whipped because she had an extramarital affair with a white man. "She turned out to be one of the very first Africans to set foot in America," Knight said. Knight became fascinated with learning more about Margaret Cornish. How did she wind up in Virginia? If she was from Africa, how did she come to have the English last name of Cornish— a name she willingly took, not one that came about because of marriage? Why did she have an affair, the circumstances of which led to the order for her punishment and caused her husband to take their child from her due to another court order? This husband and wife are the main characters of Knight's novel, which came about because Knight became so consumed with the events surrounding Margaret's life. She would spend eight hours a day doing research. When she wasn't doing research, her mind would always wander back to the 1600s. "What happened to this woman? I couldn't get away from it," Knight said. The story was consuming so much of her time that Knight said she often prayed, asking if this was a project she should continue to be so involved in. There were several signs that all seemed to be saying, "Yes." For example, Knight had a painting hanging in her office that was part of a bulk purchase of paintings made by her husband. The painting of ships at sea involved in a battle did not really fit in anywhere in their house, so Knight put it up over her desk. Shortly after saying one of her many prayers throughout the course of the project, Knight did a Google search of the White Lion, one of the English ships that pirated the San Juan Batista and eventually brought Margaret and John to Virginia. A result of her search brought up an image of that same painting hanging above her desk. Then there were the several coincidences surrounding artist Richard C. Moore, who Knight commissioned to design the cover of "Fate and Freedom." Moore is a retired Navy clergyman. White Lion Capt. John Colyn Jope was, of course, not only a seaman, but a minister as well. Also, Knight discovered that Moore's wife is a direct descendant of the man who commissioned the San Juan Batista to be built. Knight said there seemed to always be something telling her she was on the right path. Sometimes, that path took unexpected, but fruitful turns, thanks to her husband. "He could ask me a question and send me on a whole other tangent," Knight said. "He was like my muse. It was the strangest thing. He could point me in a direction and ask me a question about how this happened, or what type of work did they do or whatever. I would go and find out, and I'd find a whole other world of information." That information also brought to light how her and her husband's families are intertwined. "He has a lot of family that comes from Jamestown, and I do, too," Knight said. "In that book, there are probably 15 people who are either my ancestors or his." The revelations were "mind blowing," Knight said, such as discovering she has African ancestry in her DNA from the same region that Margaret and John came from. Not every revelation, though, was a pleasant surprise. Knight discovered that Sir Francis Wyatt, the first English royal governor of Virginia—whom she already knew was an ancestor of hers—was the one who ordered the punishment of Margaret. "I was so into this woman, following her whole history, and to find out it was my ancestor who was the one who had whipped her—it was gut wrenching," Knight said. No matter what feelings her research brought about, Knight can only marvel at what she did discover all along the way. It seemed to be a gift from God and certainly seemed that the she was meant to find the story of Margaret and John. "It was like I was led down a path and handed this information to put together," Knight said. The path has brought her to the release of "Fate and Freedom: The Middle Passage," with the release of the second novel set for October and the release of the third probably occurring in June or July 2016. So far, the first book has generated a lot of interest especially among historians/ historical groups, genealogists and the African-American community. Knight recently participated in a book-signing event/program at the Hampton History Museum in Virginia and will participate in other signings and talks in the future, including one at the University of Florida in September. "That's something I want to get into—public speaking," Knight said. "I found throughout that several universities are very, very interested in that, especially in the humanities and historical programs." There has been great interest in the book from the continent of Africa. Knight participated in a three-hour documentary to air on African Network Television and participated in what she described as "a little marketing ploy" on Facebook that was Africa-specific. Within two or three days, Knight said she received approximately 260,000 "hits." Despite the interest and activities centered around this first novel, Knight said what she is most looking forward to is the release of the third novel, which she said is her favorite of the three. Not only does the third book sum up the story, but it really brings home the fact that Margaret was someone who had no prejudices. "The blessing to me was that she saw no color," Knight said. "She saw the person. It would go a long way if America could see that."
CLIFF SMELLEY Staff Writer • Thursday, March 26, 2015 News from Bradford County, Union County and the Lake Region
West Orange Times & Observer, February 5, 2015.

WINTER GARDEN — As a child, Kathryn Hall-Knight used to spend hours in the Beulah Cemetery with her great-grandmother, picnicking among her ancestors' gravestones and learning stories about each of the family members who went before her. Hall-Knight is a seventh-generation Winter Garden resident; the first in her family to settle in the Beulah area was Rawlins Lowndes Reaves (1810-1901), who is buried in the cemetery off of Beulah Road south of West Colonial Drive in Winter Garden.
She found documentation in archives and court records, lending credence to her great-grandmother's stories, and before long, she was researching her family tree, discovering roots in some familial lines as far back as the 600s. She was able to trace her husband Tom's ancestors back to the 1600s, and in December 2007, she gave her father-in-law, Bo Knight, a family tree of his direct lineage back more than 400 years.
But, he wanted to know, what about the Minorcan heritage he always heard about through his grandmother's line, the senator's wife?
This sent Hall-Knight on a journey that traced his ancestry to prerevolutionary times and to the founding of America. She also discovered that his heritage was not Minorcan, but Melungeon, a mixture of English, African and American Indian. And the senator was actually Bo Knight's grandfather, whose wife's mother's line was Melungeon.
"What I didn't expect — none of us did — was tracing his ancestry back to Colonial times, to the very founding of our country, would allow me to discover Margaret and John, two of the first Africans to arrive in the settlement of Virginia in 1619."
Margaret, at one time an indentured black servant, is the ninth great-grandmother of Hall-Knight's husband.
WRITING IT DOWN
The genealogist, using the pen name K.I. Knight, has written a book based on the information she unveiled during a seven-year search. "Fate & Freedom, Book I: The Middle Passage" is a fictional story told using historically documented facts and people. It takes place from 1619 to 1623.
Hall-Knight describes her book:
"'Fate & Freedom' reveals the story of two young children, Margarita and Juan, captured during the Portuguese invasion of the Kingdom of Ndongo, high in the mountains of Angola. The year is 1619. Brutally, they are enslaved and shipped some 7,000 miles away to their doom in the silver mines of Mexico."
This ship was the San Juan Bautista, later dubbed the "Black Mayflower."
The description continues: "But, before the slaver can reach its destination, the ship is pirated by two English corsairs, and the children's fate is set in motion by the Calvinist reverend turned privateer, Captain John Jope. Their new destination becomes a small English settlement in the new world, which will eventually become known as America."
The rescuing ship was the White Lion.
Until recently, the story of the 8- and 6-year-old children — whose names were Americanized to Margaret and John — was merely reduced to them being among the Africans transported by a Dutch captain to the shores of Virginia.
Hall-Knight did a genealogical check on every person she wrote about and researched all the locations and descriptions she discovered to ensure accuracy.
Research was tedious, and at times, the writer felt like ending the project. But she kept receiving signs to move forward, she said, such as the random picture of a ship that had been among several paintings in a bulk purchase her husband made. It matched nothing else in the house, so she hung it in her home office. On one particularly frustrating day, she said a prayer and asked for guidance, "a sign that I should continue," she said. She continued searching online, looking for information about the White Lion.
"The first image to pop up was the same random picture that was on the wall above my desk," she said.
She continued her work.
In another instance, after Hall-Knight commissioned Richard C. Moore to create the cover for her book, she learned that the artist's wife is a direct descendant of the man who commissioned the San Juan Bautista to be built.
In still another, she was faced with a stack of research books and frustration was mounting because she couldn't find a missing piece of information, so she walked outside for some fresh air and a prayer, and when she returned to her office, a breeze blew a small paper book off her desk and upside-down onto the floor. When she flipped the book over, she said, the elusive fact was on that page.
TAKING IT ON THE ROAD
On Tuesday, Feb. 3, Hall-Knight will read an excerpt from her book and sign copies at the Winter Garden Heritage Foundation's History Research and Education Center. The event starts at 5:30 p.m.
Next month, the genealogist-turned-writer is attending several book-signing events in Virginia. In Hampton, Virginia, where a monument recognizing the "20 and odd" is being erected in 2019, she will speak at the Hampton History Museum on February 24, 2015 with Dr. Lauranett Lee, African American curator for the Virginia Historical Society. Knight recently participated in a documentary with African Network Television, and it will be shown in an international broadcast at a later date, she said.
A sequel to "Fate & Freedom" is finished and is now with her editor, Knight said. It will be published in the fall. She is completing the third book now.
The author is a member of the National Genealogy Society, as well as those in Florida and Virginia; and she belongs to the Virginia, Florida and National Maritime historical societies. She also writes the genealogy blog Kinfolk Detective.
Her 400-page book is available in hardback on her website, firstfreedompublishing.com, as well as at Amazon and Barnes & Noble. The website also offers it in electronic book format.
Contact Amy Quesinberry Rhode at aqrhode@wotimes.com.